Mumband® Maternity belly band
Mumberry leggings have a build-in belly band (Mumband) that stabilizes your pelvis and supports your growing bump.  The Mumband more evenly distribute your baby's weight over your entire abdomen and back.
The Science of The Mumband®
" We have tested The Mumband® on our own bellies, on our neighbors' bellies, on our 3rd cousin's coworker's bellies. This design has been tried and tested by MANY different women of all shapes and sizes and IT WORKS. Wearing the Mumband® has helped women tackle: an entire day at Disneyland with a 3 year old, an all-day hike up a mountain, a running routine until the day before delivery, the daily battle of mothering 3 young children, and more! Our goal is to keep you moving more comfortably because we know that life doesn't stop during pregnancy!"
Traci Maughan
Co-Founder of Mumberry
Maternity Leggings with Mumband® Belly Support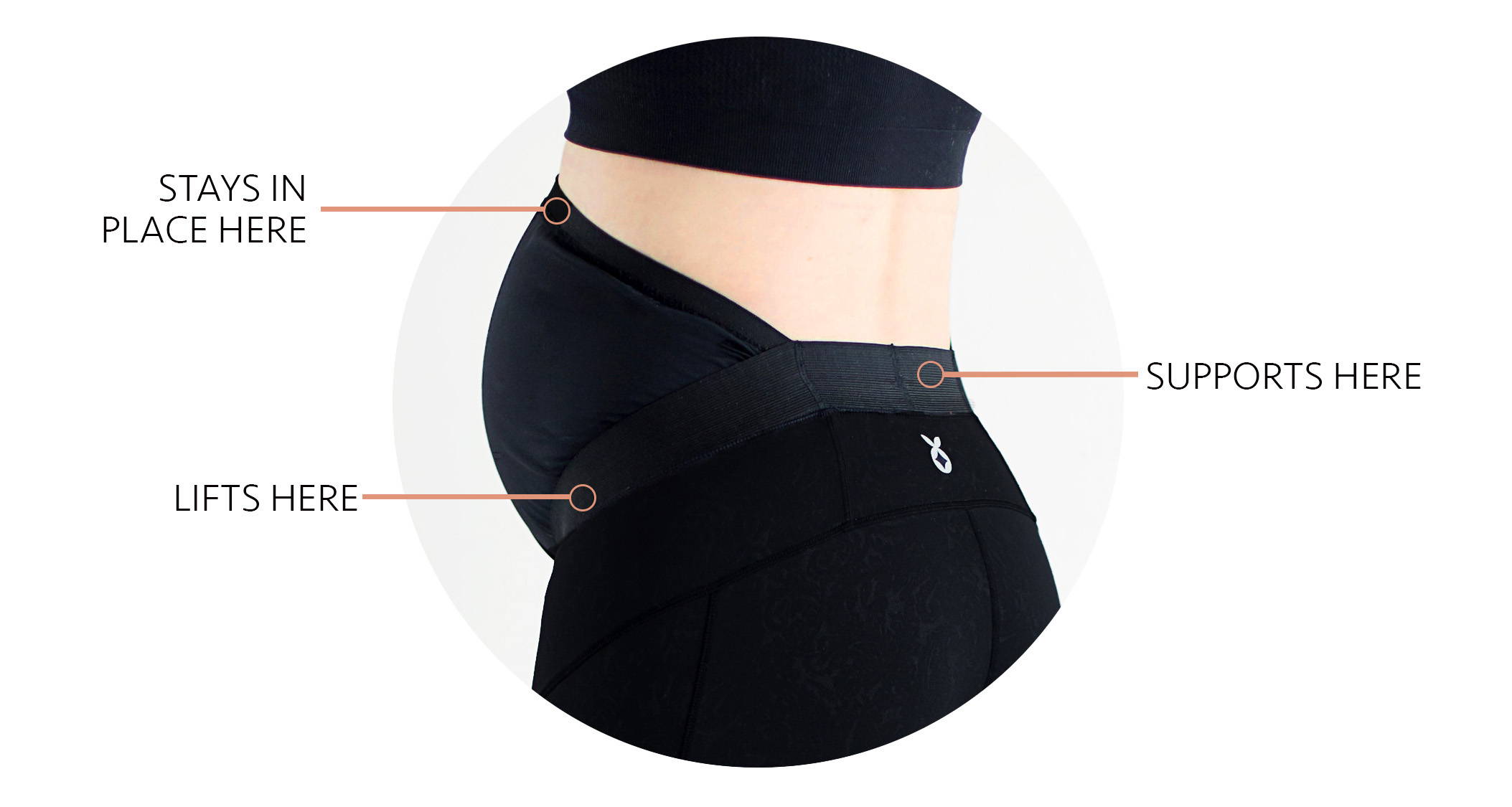 A revolutionary pregnancy support product designed to not only help support the weight of your growing uterus, but to reduce back pain, ease round ligament and pelvic pain, and to even keep Braxton Hicks contractions at bay. It's a simple and easy way to stay up and moving during pregnancy.
What's The Difference between Maternity Leggings and Mumberry Leggings?
We understand you have a lot of choices when buying maternity clothing and belly support bands. The Mumband® is unique because of:
The angle: The Mumband® is positioned low in the front (at the base of your belly in the front) and high in the back (lumbar region of your back) to help lift and redistribute the extra weight. This placement provides exceptional support for your belly and back and may also help to provide pain relief from strained back muscles and round ligaments. The placement in the back also helps prevent the band from sliding down and needing constant readjustment during the day.
The materials: The high-quality shapewear fabric provides gentle compression for support (with no harm to you or baby!) and visual smoothing for a sleek look. The high-quality super-stretchy fabric will grow with you and can be worn throughout all stages of pregnancy. The high-tech fabric is moisture-wicking and breathable so you won't get overheated. The durable plush elastic band stays in place underneath your belly so you can feel confident that you are covered during any bending or reaching.
The simplicity: The Mumband® has no hooks, zippers, buckles and any other uncomfortable features that can restrain movement. It offers 360° stretch for full range of movement and comfort.
​​​​​​​​​​​​​​
The discreetness: The Mumband® is built right in to all Mumberry clothing as a single piece and will stretch right over a growing belly. No one but you will ever know it's there. Just slip on the clothes like normal, position the Mumband® elastics to your comfort, and go! There is no need to add bulky layers or plan outfits around hiding a support belt.
Maternity Shirts with Mumband® Belly Support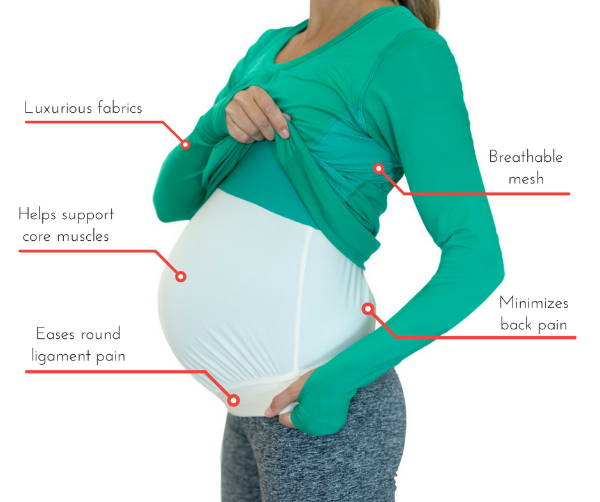 Why Does My Back Hurt during pregnancy?
As your uterus expands and your baby grows, you will experience weight gain and your center of gravity shifts. This often leads to posture changes which strain your back muscles. In addition, the transverse abdonimis muscles may separate to allow room for your expanding uterus. All of these reasons can contribute to back pain.
Give your aching back a break and let the Mumband® carry some of the load!
Why Do My Hips/Pelvis Hurt during pregnancy?
Stretching ligaments, changing hormones levels (including an increase in the Relaxin hormone which loosens joints and ligaments), and your internal organs shifting around to make room for your growing uterus can all contribute to pain in the lower belly or groin area.
The Mumband helps fight the downward pull of gravity by supporting and providing a "lift," giving those ligaments and muscles a break.
Why Do I Get Braxton Hicks Contractions?
Braxton Hicks contractions, or "practice contractions," are the tightening of the muscels of the uterus. They are unpredidible and uncomfortable and are often triggered by exercise and active movements.  
Mumberry customers have reported that wearing the Mumband® has reduced Braxton Hicks contractions and kept them up and moving longer into their pregnancies.
I Don't Have Any Aches or Pains...
Wahoo! You are one lucky momma!
Besides providing pain relief, wearing Mumberry clothing with the built-in Mumband® support has many benefits. The Mumband® can help prevent the pains listed above by providing support to those ligaments and muscles that are stretching and straining. Mumberry clothes provide a functional and comfortable maternity solution. The luxurious fabrics stretch and move with you and are moisture-wicking, breathable, and extremely soft to the touch. And just for you, we've included thoughtful details like removable bra cups and integrated cell phone pockets.
SATISFACTION GUARANTEE AND MADE IN AMERICA
Mumberry manufactures, assembles, and ships our products from Utah, USA. If you don't love them, ship them back for a full refund

PAYMENT METHODS AND SECURE CHECKOUT
We use encrypted SSL security to ensure that your credit card information is 100% protected.